Episodes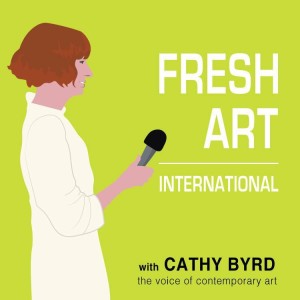 Monday Jun 03, 2019
Monday Jun 03, 2019
Venice is proven as a top destination for international contemporary art. The 58th Venice Art Biennale opened on May 11, 2019, and will be on view for the next six months. Thank you to Philadelphia-based art historian Deborah Barkun for contributing views from Venice on Instagram. Follow her encounters @freshartintl.
Today, we revisit a selection of sonic encounters at the 57th Venice Art Bienniale, when Italy was the first stop on a six-week Fresh Art International field expedition. In May 2017, preview days for the global exhibition presented an ephemeral opportunity to record the voices of curators, artists, and sounds of installations, performances and events. This episode features our experiences in the pavilions of France, Germany and Nigeria, and our walk through Egyptian artist Hassan Khan's outdoor sound environment. Artist Carolee Schneemann (1939-2019) was honored with the Golden Lion for lifetime achievement at the 57th Art Biennale. In her memory, we share the conversation we recorded with Schneemann just days before we watched her accept the prestigious award at the opening ceremony.
Sound Editor Guney Ozsan | Special Audio: French Pavilion—pianist Federico Tibone, vocalist Farrah el Dibany, experimental media artist duo My Cat is an Alien; German Pavilion—Vernissage TVfield recording,  Billy Bultheel's musical composition for Faust; Nigerian Pavilion—performance by choreographer and dancer Qudus Onikeku; Hassan Khan, Composition for a Park, ambient recordings by Andrew Russeth and Fresh Art International
Related Episodes: Samson Young: Songs for Disaster Relief, Lisa Reihana on Reversing the Colonial Gaze, Monument to Decay: Israeli Pavilion in Venice, Mark Bradford Connects Art with the Real World
Related Links: Venice Art Biennale, Fresh VUE 57th Venice Art Biennale
About the 57the Venice Art Biennale: Christine Macel curated the main exhibition Viva Arte Viva, described as a "Biennale designed with artists, by artists and for artists." Macel called it an Exhibition inspired by humanism. For her, direct encounters with the artists assumed a strategic role. Of the 120 invited artists, 103 were participating for the first time.
About Carolee Schneemann: Starting as a painter in the 1950s, in the 1960s, the artist began using her own body as material in experiments with film, music, poetry, dance, and performance. Her fearless artmaking explored body, narrative, sexuality and gender, in ways that challenged cultural and political taboos.