Episodes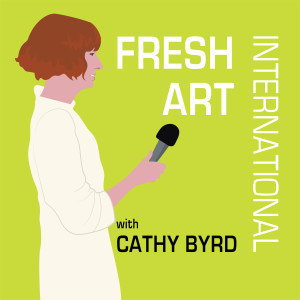 Thursday Mar 16, 2023
Thursday Mar 16, 2023
In February 2023, we travel to the United Arab Emirates for the first time. We're here to witness and celebrate Sharjah Biennial 15: Thinking Historically in the Present. Four years in the making, the exhibition is ambitious and expansive. More than 100 artists from 70 countries are presenting projects in 19 venues across the emirate. 
One afternoon, we wander through Sharjah's heritage area to Bait Obaid Al Shamsi, the personal residence of a local pearl merchant and his family from the mid-19th century until the 1970s. In a small courtyard outside his multi chambered installation, we meet artist Shiraz Bayjoo to talk about how his project engages history—a pervasive theme in this Biennial.
The artist shares the storied past of the Indian Ocean and the island archipelagos of Mauritius and Madagascar, off the southeast coast of Africa. Keep listening to hear the orientalist tropes that he disrupts in Searching for Libertalia, a project that recovers the history of a purported pirate colony founded in the late 17th century.
Our conversation with Shiraz Bayjoo reveals one artist's approach to Thinking Historically in the Present. Searching for Liberatalia materializes a cultural narrative that might come closer than real history to showing us the way through rupture, dislocation, and uncertainty to a place of growth and renewal.
Story: Cathay Byrd
Sound Design: Anamnesis Audio
Special Audio: Searching for Libertalia, Sharjah Biennial 15
Related Episodes: Sharjah Biennial 15—with Hoor Al Qasimi
Related Links: Shiraz Bayjoo, Sharjah Biennial 15, Searching for Libertalia