Episodes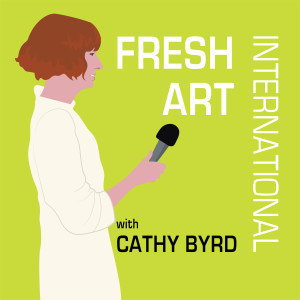 Wednesday May 19, 2021
Wednesday May 19, 2021
With American-born artist Mary Mattingly, we delve into her collaborative environmental interventions over time. We remember the 2015 Havana Biennial when rainwater nourished Pull, a pair of geodesic dome eco-systems through which she engaged locals. We follow her rising interest in water to Swale, a co-created edible landscape on a barge that navigated New York City's waterways, offering free fresh food to visitors when docked at public piers. And we contemplate the Year of Public Water that Mattingly launched with More Art in 2020. Emblematic of water issues that challenge public health the world over, the New York City story reminds us that clean water is a shared responsibility—a basic human right that we must invest in and protect. 
Related Episodes: The Awakening, Mary Mattingly on Human Relationships with Nature, Topical Playlist: Sustainability and the Environment 
Related Links: Mary Mattingly, Pull, Swale, Public Water, More Art
Mary Mattingly is a visual artist based in New York City. This episode explores three of her eco-sensitive projects. 
Pull was co-created for the International Havana Biennial with the Museo Nacional de Bellas Artes de la Habana and the Bronx Museum of the Arts, two spherical ecosystems that were pulled across Habana to Parque Central and the museum.
Swale, an edible landscape on a barge in New York City, docked at public piers for public engagement. Following waterways common laws, Swale circumnavigated New York's public land laws, allowing anyone to pick free fresh food. Swale instigated and co-created the "foodway" in Concrete Plant Park, the Bronx in 2017. The "foodway" is the first time New York City Parks is allowing people to publicly forage in over 100 years. It's currently considered a pilot project.
Public Water (2020-2021) is a multiform project and installation that brings attention to New York City's intricate drinking water system and the communities who steward upstate watersheds and drinking water sources. With this project Mattingly emphasizes the human care that goes into having access to clean water and calls for more reciprocal relationships among our neighboring communities and the planet. The project includes a digital campaign, education initiatives, and a large-scale, public sculpture installation taking place June 3 – September 7, 2021 at the Grand Army Plaza entrance to Prospect Park in Brooklyn. In addition, to keep this essential conversation going with park visitors into the future, the Prospect Park Alliance has commissioned Mattingly and More Art to produce a walking tour through the Park's watershed, designed in connection with the launch of ecoWEIR, a natural filtration pilot project for the Park's manmade watercourse. NYC-based More Art, a non-profit organization that generates socially engaged public art projects, commissioned Public Water.