Episodes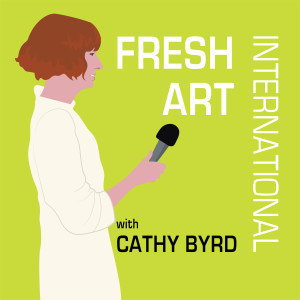 Wednesday May 05, 2021
Wednesday May 05, 2021
Today's story takes place at the intersection of art and the First Amendment. This vital element of the United States Constitution protects our right to freedom of expression, by prohibiting lawmakers from restricting the press or the rights of individuals to speak freely. 
Artist Sheryl Oring took up this cause célèbre in 2004. In conversations across time, we trace her synthesis of art and free speech in a public performance project that quite naturally, has no end in sight. As long as there is democracy in the United States, there will be opportunities to voice opinions about the U.S. presidency, about social justice, the economy, public health, globalization, climate change, education, and more. 
What would YOU wish to say to the U.S. President?
Let us know on Instagram: @freshartintl #iwishtosay
Sound Editor: Anamnesis Audio | Special Audio: Sheryl Oring on ABC World News Tonight, 2004; Sheryl Oring at Washington and Lee University, 2018; I Wish to Say with University of Michigan and Wayne State University students, 2020; Lisa Bielawa, Voters' Broadcast, 2020
Related Episodes: Where Art Meets Activism, Topical Playlist: Art and Politics, Charles Gaines on Philosophy and Politics in Conceptual Art, Bahar Behbahani on Politics and Persian Gardens
Related Links: Sheryl Oring, I Wish to Say, Activating Democracy (the book), The First Amendment Project, Oakland, CA, Creative Capital Foundation, W&L Quick Hit: Sheryl Oring Performs I Wish to Say, Sheryl Oring on ABC World News Tonight, I Wish to Say Archive, University of Michigan, Democracy & Debate Theme Semester, Stamps Gallery, Lisa Bielawa, Voters' Broadcast, Mauer Broadcast with Lisa Bielawa, The Berlin Wall