Episodes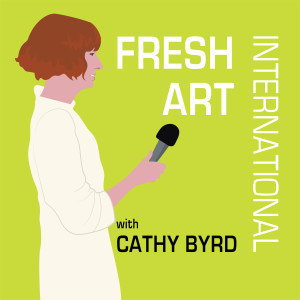 Thursday Mar 02, 2023
Thursday Mar 02, 2023
In February 2023, we travel to the Arab Emirates for the first time. We're here to witness and celebrate Sharjah Biennial 15: Thinking Historically in the Present. Four years in the making, the exhibition is ambitious and expansive. More than 100 artists from 70 countries are presenting projects in 19 venues across the emirate. Seventy of those projects are new commissions.
The memory and influence of Nigerian born art historian, author, educator, and curator Okwui Enwezor is deeply felt, despite his physical absence. The Sharjah Art Foundation had invited Enwezor to curate this iteration of the biennial. He envisioned the exhibition title before his death in 2019.
Sharjah Art Foundation Director Hoor Al Qasimi was 22 years old when she met Okwui Enwezor and experienced his non-western curatorial model at documenta 11, in Kassel, Germany. Enwezor's impactful perspective on postnational hybridity and global modern identity inspired Al Qasimi to lead the Foundation and the Biennial in new directions. 
On the 30th anniversary of the Biennial, we sit down with Al Qasimi to talk about the inclusive ethos that we find in the art experience of Thinking Historically in the Present.
Story: Cathy Byrd | Sound Design: Anamnesis Audio
Special Audio: Hassan Hajjaj with Mestre Pastel, Open Capoeira Session, Arts Square, Sharjah 
Related Episode: New Point of View at Venice Biennale
Related Links: Sharjah Biennial 15, Sharjah Art Foundation, documenta 11, 2nd Johannesburg Biennial