Episodes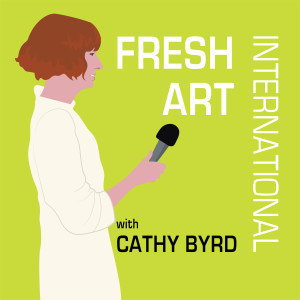 Wednesday Jan 13, 2021
Wednesday Jan 13, 2021
Today's story unfolds at the intersection of art, sports, and activism.
In 1968, Black American athlete Tommie Smith set a new world record. He became a gold medalist when he raced to win the 200-meter event at the Summer Olympics in Mexico City.
Yet Tommie Smith was only inducted into the U.S. Olympic Hall of Fame in 2019. Why did it take half a century for the international sports organization to recognize his record-breaking performance? 
Because in 1968, at the height of the civil rights struggle in America, Tommie Smith took a stand on racism and human rights at the awards ceremony in Mexico City. As he stood on the podium to accept his medal, he bowed his head and raised his fist in a silent salute. That year, the Olympics were broadcast on television live and in color for the first time ever. The whole world witnessed his gesture. 
Tommie Smith's respectful protest marked his life in the years that followed, while motivating generations to stand up for equality. He continues to inspire us, encouraging everyone to take part in the ongoing quest for global human rights and racial justice. 
In this episode, you'll hear from the athlete and two creatives he inspired: Japanese-American artist Glenn Kaino and Iranian-born cinematographer Afshin Shahidi. They came together to create an exhibition, public programs and a documentary film to tell Tommie Smith's story.
When artist Glenn Kaino sought out the legendary Olympic runner as a creative collaborator, he recognized the enduring value of art as a means to preserve a noble act. With Drawn Arms amplifies Smith's courage, bringing history to reckon with our contemporary moment. 
Sound Editor: Anamnesis Audio
Related Episodes: Black in America, Franklin Sirmans on the Art of Futbol, Athi-Patra Ruga on Global Human Rights
Related Links: Tommie Smith, Glenn Kaino, Afshin Shahidi, Mexico 1968 Summer Olympics, Olympic Project for Human Rights, High Museum of Art, San José Museum of Art, Colin Kaepernick, Kavi Gupta Gallery, Fresh Art International at Untitled Art Fair
Watch the Film: With Drawn Arms
Our Current Moment
Since early 2020, the coronavirus pandemic has held our planet in its grip. We have reckoned with isolation and the loss of friends and loved ones, and with the strange new normal of everyday life. The public health crisis has meant the delay or cancellation of cherished cultural and sports events. The 2020 Tribeca Film Festival and the Japan 2020 Summer Olympics, where the film With Drawn Arms was to be screened, were among thousands of casualties. 
In 2020, racial equity became a flashpoint on two fronts. The virus has been taking a greater toll on Blacks and people of color. Police violence against Blacks sparked a resurgence of the Black Lives Matter Movement, triggering massive protests across the U.S. and abroad. The quest for racial equity and human rights continues.