Episodes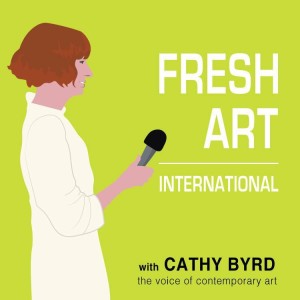 Monday Aug 12, 2019
Monday Aug 12, 2019
Today, we take you back to the month of April, in the year 2012. That's when we set out on a road trip from Austin, Texas. We're aiming to find out how remote wide open spaces of the American Southwest inform and inspire art and design, curating and filmmaking.
Lubbock, Texas, birthplace of musician songwriter Buddy Holly, is our first stop. In a warehouse at the edge of town, we meet architecture professor Chris Taylor. He introduces us to students from Texas Tech University who took his course in Land Arts of the American West. The course involves a 6,000-mile road trip that culminates each time in an exhibition such as the one on view during our visit.
We drive on to Roswell, New Mexico, home to the Unidentified Flying Object (UFO) Museum, to spend the night in one of the ranch-style houses that accommodate the Roswell Artists in Residence Program, known as RAIR. Established in 1967 by artist and art collector Don Anderson, the program is off the beaten path for residencies, offering visual artists the unique opportunity to spend an entire year concentrating on their work. The voices you'll hear are five of the current residents at the time of our visit:  Sarah Bostwick, Jon-Paul Villegas, Brian Villegas, Brian Kluge, and Sioban McBride.
A three hour drive from El Paso, Texas, Marfa has become a destination for art tourism. Home of the ghostly Marfa Lights (unexplained lights sometimes seen along the horizon in the night sky), the tiny town sits in the high desert, between the Davis Mountains and Big Bend National Park.
Renowned minimalist artist Donald Judd came here in the 1970s to escape New York City's commercial art scene. With the help of the DIA Foundation, he acquired a former Army base. Before Judd died in 1994, he transformed the 400-acre expanse into a faceted art experience. The Chinati Foundation is a contemporary art museum designed to connect art to the surrounding landscape. Year round, visitors can explore Judd's signature boxes and installations by Dan Flavin, Rebecca Horn, Ilya Kabakov and more. We spend a few days to track down some of the artists, curators, designers and producers expanding on Judd's singular vision.
Professional filmmakers Jennifer Lane and David Hollander moved to Marfa from Los Angeles. CineMarfa, the film festival they founded there, will celebrate its tenth year in 2020. We visit their home for a conversation about the genesis of CineMarfa and plans for the second annual event.
Ballroom Marfa is a key site of cultural production in this remote art mecca. Arts pioneers Fairfax Dorn and Virginia Leh-bermann founded the contemporary cultural arts space in 2003. Ballroom's gallery is a converted dancehall that dates to 1927. We sit down with Ballroom's creative team to learn more.
In 2019, we reach out to curator Laura Copelin to find out what happened next. Ballroom Marfa continues commissioning site specific artworks and installations—responding to the environmental, social and political ecology of the landscape that extends to the border of Mexico. One recent example is Haroon Mirza's massive Stone Circle in the grasslands east of town. This is Ballroom's most ambitious public commission since Elmgreen & Dragset's Prada Marfa was completed in 2005. The stone circle will remain in the landscape for the next several years.
Leaving the high desert, we drive northeast through the Texas hill country, passing endless fields of bluebonnets. In East Austin, we meet designer architect Jack Sanders in his studio. Sanders talks about how the legendary architect Sam Mockbee influenced the evolution of his own life's work.
Sound Editing and Special Audio Credits:
Destination American Southwest Sound Editor: Anamnesis Audio
Land Arts of the American West Sound Editor: Leo Madriz | Special Audio: 45 rpm record found by Land Art 2011 participants
Program Director: Chris Taylor
Students: Alexander Bingham, Luis Bustamante III, Will Cotton, Winston Holloway, Richard Klaja, Celeste Martinez, Zachary Mitchell, Carl Spartz, Rachael Wilson, Bethany Wood. Program Assistant: Adrian Larriva
Roswell Artists in Residence Sound Editor: Leo Madriz | RAiR acoustics: Sarah Bostwick
CineMarfa Sound Editor: Jay Agoglia | Sound Track: Harmony Korine, TRASH HUMPERS, 2009
Ballroom Marfa Sound Editor: Leo Madriz | Special Audio: Brian LeBarton, The Wind, 2010. New Year's Film/Score Series. January 2, 2010. The Crowley Theater, Marfa
Jack Sanders Sound Editor: Leo Madriz | Music: Ross Cashiola, "Trains in the Grass"
Related Episodes: Fresh Talk: Joan Jonas, Fresh VUE: Austin, Land Arts of the American West, Roswell Artists in Residence, CineMarfa 2012, Ballroom Marfa Imagines a Drive-In, Jack Sanders on Slow Architecture
Related Links: Roswell Artist-in-Residence Program, Sarah Bostwick, Jon-Paul Villegas, Brian Kluge, Corwin Levi, Sioban McBride, Chinati Foundation, CineMarfa, Jack Sanders, Sam Mockbee/Rural Studio
Tags: architecture, Austin,, Design Build Adventure, El Cosmico, Jack Sanders, Marfa, Rural Studio, Sam Mockbee, Texas, New Mexico, art podcast, Fairfax Dorn, Virginia Lebermann, Roswell, artists in residence, Chinati Foundation, Texas Tech University, Donald Judd