Episodes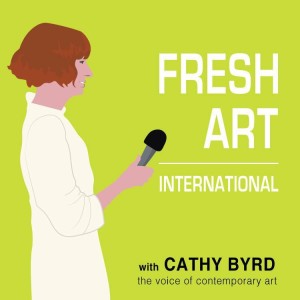 Tuesday Oct 15, 2019
Tuesday Oct 15, 2019
Philadelphia-based art historian Deborah Barkun talks about the pleasure and critical thinking that she discovers each time she explores the Venice Art Biennale and collateral events. Through her eyes, we understand that the venerated exhibition never fails to create a constellation of art encounters—always stimulating the senses and challenging the mind, always offering a glimpse into our contemporary psyche. 
58th Venice Art Biennale:
For the 2019 international art exhibition, London-based American curator Ralph Rugoff chose the title May You Live in Interesting Times. This is a phrase of English invention that has long been mistakenly cited as an ancient Chinese curse. The words 'interesting times' invoke periods of uncertainty, crisis and turmoil. Rugoff invited 79 artists from around the world who, in his words, "challenge existing habits of thought and open up our readings of objects and images, gestures and situations…entertaining multiple perspectives…holding in mind seemingly contradictory and incompatible notions, and juggling diverse ways of making sense of the world."
The 2019 exhibition includes 89 National Participations in the historic Pavilions at the Giardini, at the Arsenale and in the historic city center of Venice. Four countries are participating for the first time: Dominican Republic, Ghana, Madagascar, Malaysia, and Pakistan. Twenty-one Collateral Events taking place across the city widen the diversity of voices that characterizes the Biennale.
Read Deborah Barkun's posts from the 58th Venice Art Biennale on instagram @freshartintl.
Sound Editor: Anamnesis Audio | Special Audio recorded in Venice May-June 2019
Romani Embassy performance by Delaine Le Bass, Music by Santino Spinelli
Related Episodes: Art Historian Playlist: Deborah Barkun Listens to Joana Choumali, Samson Young: Songs for Disaster Relief, Mark Bradford Connects Art with the Real World, Lisa Reihana on Reversing the Colonial Gaze, Monument to Decay: Israeli Pavilion in Venice
Related Links: Venice Art Biennale 
Related Images: Fresh VUE: 58th Venice Art Biennial, Fresh Vue: Venice Art Biennale 2017