Episodes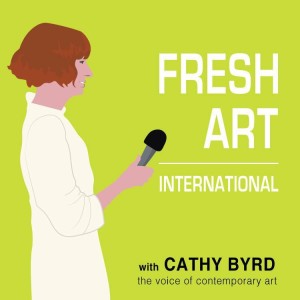 Monday Feb 04, 2019
Monday Feb 04, 2019
Art with a Sense of Place considers creative projects that respond to a physical space and those that react to or embrace a historic moment, a cultural environment, a socio-political tension, or a psychological space.
Emerging in the 1960s, site-specific art sought to transcend what was perceived as the over-curated, almost clinical context of the art museum. Artists rebelled by creating their own exhibition sites (Agnes Denes brought a Wheatfield to a New York City landfill). Some flaunted the rules of museum installation with live interventions (Joseph Beuys lived in a Soho gallery with a live coyote).
Our series of episodes on site sensitivity brings a broader range of cultural production into the conversation, exposing new ways of seeing place, space, and site in contemporary art.
Art with a Sense of Place, Part I, highlights conversations featured in the second issue of the Fresh Art International Smart Guide. We produce the guide as a series of downloadable pdfs. Each issue delves into a different theme—through select episodes, transcriptions and links to research that informs our podcast.
Sound Editor: Anamnesis Audio
Related episodes: Joan Jonas, Jason Moran, Janet Biggs, Sarah Hobbs, Tameka Norris, Stephen Vitiello
Related link: Smart Guide