Episodes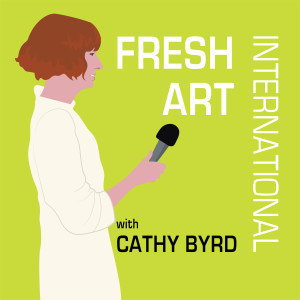 Wednesday Aug 12, 2020
Wednesday Aug 12, 2020
In today's prologue to our Fall 2020 Student Edition, University of Miami senior Melissa Huberman tells the story of Art in the Time of Corona. She recorded with Fresh Art International founder Cathy Byrd, local artist Dana Musso, and team members from the Bass Museum of Art in Miami Beach, to find out how some artists, curators, and educators are responding to the impact of the global coronavirus pandemic. Listen to hear some of the ways they are creating and implementing meaningful art encounters for their communities. 
The Story Behind The Story
In 2020, hundreds of thousands of people across the United States and around the world have been sickened and forced into quarantine by the novel coronavirus, also known as COVID-19. The pandemic continues to affect us profoundly—both physically and economically. All of us have had to adjust how we live and work, teach and learn. 
In January 2020, Fresh Art founder Cathy Byrd began to introduce a group of University of Miami students to podcasting in a course titled Once Upon a Time in Miami. With Byrd, a team of nine students explored cultural sites across the city to record and produce the Miami Moves Me podcast. Due to the pandemic, at mid-semester, field expeditions came to an abrupt halt and classes went online. A set of eighteen episodes represents the UM student team's research, field recordings, and interviews. Art in the Time of Corona is the prologue to our Fall 2020 Student Edition. 
Producers: Melissa Huberman/Miami Moves Me, Giselle Heraux and Jahné King/FreshArtINTL
Sound Editor: Anamnesis Audio
Featured Voices: Cathy Byrd, Dana Musso, Leilani Lynch, Julia Rudo, Kylee Crook
Related Episodes: Miami Moves Me/Art in the Time of Corona, Fresh Voices Miami

Related Links: Miami Moves Me, Fresh Art Distance Learning Resources, Fresh Art Student Edition, Institute of Contemporary Art Miami, Locust Projects, Pérez Art Museum Miami, Bass Museum of Art, Lowe Art Museum