Episodes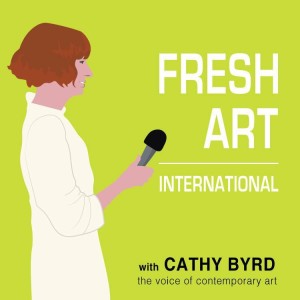 Monday Apr 15, 2019
Monday Apr 15, 2019
Globally engaged curators introduce IKT, the International Association of Curators of Contemporary Art, and talk about themes we'll explore during the 2019 IKT Congress in Miami. Ground zero for sea level rise, Miami is the ideal context for our conversation on how art and visual culture are changing public perception of today's climate crisis.
Recorded in the studio of Jolt Radio, Miami, on April 10, 2019, during our weekly web streaming radio show.
Voices: (alpha order) Daniela Arriado, Susan Caraballo, T.J. Demos, Julia Draganović, Vanina Saracino
Sound Editor: Anamnesis Audio | Special Audio: Cara Despain, Sea Unseen; Ursula Biemann and Paulo Tavares, Forest Law; Oliver Ressler, Code Rood; Enrique Rámirez, Tidal Pulse; Band of Weeds, Underground Root Movement | 
This episode is supported, in part, by IKT Miami.
Related Episodes: Live from the Everglades, Part One, Robert Chambers on Art, Ancient Plants and New Technologies, Gustavo Matamoros: Inside Miami's Sound Chamber, Deborah Mitchell: The Artist as Guide to the Everglades, Jenny Larsson on Searching for Arctic Winter, Adam Nadel on Getting the Water Right, Artist Residency in Everglades, Art and the Rising Sea,  Jorge Menna Barreto on Environmental Sculpture, Rauschenberg Residency on Rising Water, Andrea Bowers on Environmental Activism
Related Links: IKT, Screen City Biennial
Episode Participants:
Daniela Arriado is Director and founder of Screen City Biennial in Stavanger, Norway. Based in Berlin since 2012, she explores new curatorial approaches towards expanded borders of cinematic experiences and the audio-visual through projects concerning urban screens and online streaming platforms for video art.
Susan Caraballo is a Miami-based arts consultant, producer and curator working at the intersection of curating and directing to explore global issues including the ecological crisis and contemporary social conditions. A member of IKT's Miami constituency, Caraballo organized the symposium for the 2019 Congress around the subject of environmental sustainability and creative resilience.
T.J. Demos is Professor in the Department of the History of Art and Visual Culture, at University of California, Santa Cruz, and Founder and Director of its Center for Creative Ecologies. He writes widely on the intersection of contemporary art, global politics and ecology.
Julia Draganović is a curator whose focus is time based and collaborative art and new artistic strategies. She has curated projects in Germany, Italy, Spain, the USA and Taiwan. Currently Director of Kunsthalle Osnabrück, Germany, Draganović has served as President of IKT since 2014.
Vanina Saracino is an independent curator and film programmer based in Berlin. She is the co-founder of OLHO, an international curatorial project about contemporary art and cinema initiated in 2015 in Rio de Janeiro and São Paulo, also shown at Teatrino di Palazzo Grassi (Venice, 2017) and Palais de Tokyo (Paris, 2018). Saracino is co-curating the 2019 Screen City Biennial.
About IKT: German curators Eberhard Roters, Eddy de Wilde and Harald Szeemann and others founded IKT in 1973, to stimulate and extend debate concerning curating. Convening each year in a different city, IKT brings together curators from around the world, to meet, share knowledge, exchange ideas and broaden their professional networks.
About IKT Miami: A group of twelve Miami-based curators organized a three-day program for IKT's 2019 Congress in Miami. More than 100 international curators and art professionals participated, along with local curators, cultural producers, artists and other members of Miami's cultural community. IKT Miami brought international attention to area artists and cultural producers, including those addressing global issues of sustainability and resilience in South Florida. The symposium and five related community events introduced Miami's rich cultural landscape.