Episodes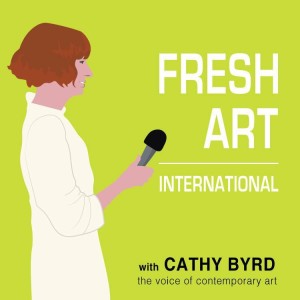 Friday Mar 06, 2020
Friday Mar 06, 2020
Today, we take you to Toronto. We're here to meet a group of graduate students at the Ontario College of Art and Design University, also known as OCAD. For the Intro to Curatorial Practices course, their goal is to research, develop and activate an exhibition in the digital realm. Recorded in the first weeks of the semester, our conversation reveals how the students are defining their roles and designing their strategy for curating an online platform. 
In the months following our campus visit, the students forged an interdisciplinary curatorial collective. In December 2019, they launched the exhibition titled connection_found. Online now, works by seven artists illustrate the quirks of navigating intimacy on the web. "At the core of the exhibition," writes the collective on their website, "connection_found simultaneously expands, individuates, and links the collective experience of existing on the internet."
OCAD University—Curating in the Digital Realm is one of our 2020 Student Edition episodes.
Sound Editor: Anamnesis Audio | Photography: FreshArtINTL
Related Episodes: SAIC—Imagining Tomorrow, Wayne State—Designing for Urban Mobility
Related Links: Criticism and Curatorial Practice Program, Ontario College of Art and Design University, connection_found
Intro to Curatorial Practices, a graduate seminar in the Criticism and Curatorial Program at OCAD University, introduces students to the major critical texts, theories and debates in the burgeoning international field of contemporary curatorial studies. Simultaneously throughout the seminar, students attend public exhibitions, screenings, lectures, performances and events in Toronto's visual art and design worlds. An ongoing examination of contemporary art and design practices within public culture provides students with an eclectic and critical mapping of the layers and intersections of the visual arts, media and design in relation to their varied publics, audiences, markets, the mass media and the scholarly community. 
connection_found is an online group exhibition organized by feelSpace featuring works by Ronnie Clarke, Taylor Jolin, Leia Kook-Chun, Madeleine Lychek and Paula Tovar, Noelle Wharton-Ayer, and Becca Wijshijer. Together, these works trace and re-trace digital intimacy, touch, and the body as it moves and navigates towards the virtual realm. More literally, connection_found suggests the curatorial alignment of these works in a digital context which, in and of itself, requires finding connection. Source: feelspace.cargo.site.
Andrea Fatona, Associate Professor, Faculty of Art and Graduate Program Director, Criticism and Curatorial Practice, is an active curator. Her areas of focus are culture, cultural policy formation, cultural production, nation making, citizenship and multiculturalisms. In the classroom, she engages students in thinking about issues around equity and diversity in the context of art.
The Student Edition began in 2019, with visits to art schools and universities in the United States and Canada, where we began recording voices of the future. In 2020, we present the first episodes in our Student Edition—conversations about creativity with emerging makers and producers. Given opportunities to explore and experiment, students are discovering how they can shape the world they live in. What issues and ideas spark their creative impulse?